29,032′ CLIMBING in 29 DAYS OR LESS
October 1-29, 2023


Set your intention to CLIMB and CONQUER!



"Everesting" is now part of the global cycling vernacular. It's a simple concept, yet brutally challenging: Pick any hill, anywhere in the world, and climb it repeatedly, until you reach the height of Mt. Everest at 29,032′.
The pros have been at it for years. The current record is 6:40:54, held by Ronan McLaughlin. That's just INSANE.
How about a challenge for us mere mortals?
You have 29 days to climb 29,032′. You can do a non-stop sufferfest; a quad-busting weekend; or take your time and smell the wildflowers.
HOW DOES IT WORK? These are the Rules.
1. "Register" for the Challenge using the link below. When you sign up online, you automatically create a RunSignUp profile which enables you to upload and manage your climbing results. Please do not set your profile to "anonymous," or we'll be unable to see your results.
2. Submit your daily activities to our Everesting Challenge Results on RunSignUp and post your rides to Strava. You'll receive an email with specific instructions on how to post to RunSignUp; and/or you can read the instructions here.
3. Request to join the Everesting Challenge Strava Club so we can encourage each other, give kudos and be inspired! We'll also spot-check total climbing totals each week to make sure everyone submits legit results to RunSignUp. If you're not yet on Strava, please join! It's FREE!
4. Join our Mt. Everest Climbing Challenge Facebook group to post photos of your favorite climbs and of your smiling faces at the top!
5. Between October 1st and 29th (which includes 5 weekends), climb, climb, climb!
6. Acceptable bikes: Any and all exclusively human powered two-wheeled bicycles. Sorry, no e-bikes/pedal assist for this one. During registration you will let us know which bike type you're riding (standard, fixed gear, recumbent, trike). We will list non-standard bike types in the Hall of Fame results to acknowledge and distinguish those riders.
7. Acceptable indoor-apps: We're okay with any of them, so long as you're using a direct-drive smart trainer and are being honest regarding your weight.
8. If you previously "Everested" and just wish to purchase the jersey, event registration will have an option for just the jersey. You must send us a strava link or other proof that you did it – and it had to be in ONE RIDE.
WHAT'S INCLUDED WITH ENTRY:
1. Everyone who "Everests" earns the Mt. Everest Climbing Challenge jersey by Blackbottoms Cyclewear; and you may purchase the matching shorts/bibs. Our design includes Tibetan prayer flags: Blue for sky, white for air, red for fire, green for water and yellow for earth. Traditionally, prayer flags are used to promote peace, compassion, strength, and wisdom. Tibetans believe the prayers and mantras are blown by the wind to spread good will and compassion into all pervading space.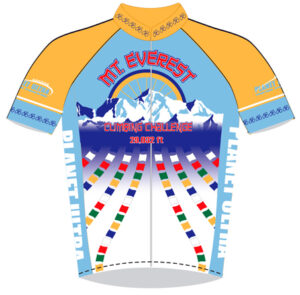 Jerseys are ordered at the end of the Challenge and delivered as soon as we have them (usually 7-8 weeks).
We do not inventory these jerseys, so please choose your size wisely. We're happy to help.**
Race cut are euro-style, tight fitting. Club cut is more relaxed. Race cut is only available if we meet the minimum of 6 to order. We will contact you if we don't. Women's are available in club cut only.
**Jerseys are special ordered for each finisher of this Challenge. If you need help choosing a size/cut, send us an email with your height and weight and your preference for tight fit (race cut) or more relaxed (club cut). It's important that we get the size right, as we're unable to exchange once we ship it to you if it doesn't fit.
2. Digital racer bib to post to your social media or download and print to put in a prominent space as encouragement and motivation.
3. To celebrate your successes as you climb higher and higher, you'll earn milestone badges along the way: Base Camp- 17,700′; Ice Fall- 20,000′; Lhotse Wall- 22,300′; Death Zone- 26,250′; Summit- 29,032′.
4. Up and OVER? How many times can you Summit in 29 days? Be immortalized in our Mt. Everest Climbing Challenge Hall of Fame (see below) and earn badges for Double Summit- 58,064′ or Triple Summit- 87,096!
5. Planet Ultra will provide lots of support, motivation, kudos and accolades for your climbing efforts; cheering you on the entire way!
6. The person with the most accumulated elevation gain will receive their choice of either 50% discount for a Planet Ultra single-day event entry or 20% discount for solo Hoodoo 500 entry.
Entry Fee: Cycling – $129
Includes finisher jersey for everyone who climbs at least 29,032′ in 29 days.
Use the Climb Everest button to register with RunSignUp and pay by credit card (includes a small service fee).
HALL OF FAME
Double or Triple Summit to Claim Your Spot in Our EVERESTING HALL OF FAME
****************************************************************************************
Bryan Clark, 56, Draper, UT, April 2022: 205,826′ (7 summits)
Wendell Howell, 63, Patterson, CA, April 2023, 189,754′ (6 summits)
Kenny Owen, 50, Castro Valley CA, April 2022: 150,222′ (5 summits)
Andrew Gustafson, 82, Ojai, CA, Jan 2023: 116,363′ (4 Summits – beating his record from 2020. Indoors.)
Rodolfo Dela Cruz, 69, Azusa, CA, Oct 2022: 111,758′
Andrew Gustafson, 80, Ojai, CA, Dec 2020: 111,358′ (At 80 years old!!! That's nearly 4 summits!)
James Van den Broek, 54, Letterkenny, Ireland, April 2023: 106,788′
Rob Boyer, 66, Los Gatos, CA, April 2022: 102,896′
Kiran Uln, 47, Pleasanton, CA, Oct 2022: 101,738′
Ray Barnes, 65, Woodland Hills, CA, Oct 2022: 101,718′
Jack Harbaugh, 66, Gettysburg, PA, April 2022: 101,516′
Jim Campbell, 65, Corona, CA, Sept 2021: 100,524′
Gerald Ping-ay, 46, Colton, CA, April 2023: 95,697′
Gerardo Olalia, 52, Daly City, CA, Oct 2020: 94,613′
Anette Ekelius-Chow, 58, Anaheim Hills, CA, Oct 2022: 93,601′
Alexander Mohr, 52, Heidelberg, Germany, Oct 2022: 93,547′
Caleb Sprayberry, 35, Pahrump, NV, July 2022: 93,378′
Mario Dela Cruz, 64, Azusa, CA, Oct 2022: 91,694′
Christine Sublett, 53, San Mateo, CA, Oct 2020: 87,568′
Rene Silva, 57, Fontana, CA, July 2022: 87,707′
Maria Cristina Suarez, 34, Daly City, CA, Dec 2020: 84,230′
William Michael, 67, Kitchener, Ontario, Canada, Sep 2021: 80,476′
Jacek Pinski, 62, La Canada Flintridge, CA, July 2022: 80,007′
Glenn Zara, 41, South San Francisco, CA, Oct 2020: 79,668′
Dennis Cadiz, 58, Lathrop, CA, April 2022: 77943′
Graham Rae, 65, Waunkee, WI, Mar 2021: 77,880′
Robert Samano, 60, Las Vegas, NV, July 2022: 74,712;
Wendy Watson, 76, Rancho Palos Verdes, CA, Nov 2020: 72,824′
Kutter Callaway, 43, San Gabriel, CA, April 2022: 70,385′
Harold Cruz, 42, West Covina, CA, Oct 2022: 69,235′
Ole Eichhorn, 65, Westlake Village, CA, April 2023: 69,154′
Christopher Mathewson, 61, Ontario, CA, Oct 2022: 67,602′
Cindy Wang, 37, Irvine, CA, Oct 2020: 66,751′
Rick Clemson, 65, Placentia, CA, April 2022: 66,343′
Rob Burns, 56, El Dorado Hills, CA, Oct 2020, 66,120′
Dino Marco Blue Suarez, 37, Daly City, CA, Dec 2020: 66,021′
Rose Hewig, 55, Volatie, NY, Oct 2020: 65,095
Joey Lythgoe, 49, Jensen, UT, Dec 2021: 64,872
Wayne Hunter, 74, Clovis, CA, Sep 2021: 63,335
Alexander Pastuszak, 44, Salt Lake City, UT, July 2022: 63,121′
Robert Garro, 56, Rancho Santa Margarita, CA, Oct 2020: 63,003′
Kathleen House, 69, Long Beach, CA, Nov 2020: 62,651′
Dennis Sapitan, 45, Lakewood, CA, April 2023: 62,590′
Rey Guinto, Jr, 44, Norwalk, CA, April 2023: 62,042′
George Bruder, 62, Los Gatos, CA, Dec 2021: 61,679′
Gregory Magee, 45, Pasadena, CA, April 2022: 61,433′
Karen Demichelis, 62, Escalon, CA, April 2023: 61,404′
Tami Kerns, 51, Yucaipa, CA, Oct 2020: 61,211′
Vincent Ryan, Norwalk, CA, April 2023: 60,709′
Jason Brault, 34, Peoria, AZ, Oct 2022: 60,668′
Jeanine Spence, 58, Fresno, CA, April 2022: 60,610′
Greg Grubaugh, 67, Modesto, CA, April 2023: 60,460′
Chad Fischer, 54, Santa Monica, CA, Mar 2021: 60,447′
Steven Morton, 54, O'Fallon, IL, Dec 2020: 60,248′
Chester Labucay, 53, Elk Grove, CA, April 2023: 60,211′
Lawrence Quimby, 74, Long Beach, CA, April 2022: 59,221′
Greg Kirkpatrick, 63, Olympia, WA, Oct 2020: 58,976′
Gary Hongista, 54, Danville, CA, July 2022: 58,675′
Rica Enrile, 39, San Leandro, CA, Mar 2021: 58,870′
Froylan Pulido, 58, Chowchilla, CA, Nov 2020: 58,686′
Eric Korevaar, 62, La Jolla, CA, May 2021: 58,511 (on an Elliptigo!)
Steve Martin, 63, Santa Barbara, CA, April 2023: 58,372′