29,029′ CLIMBING
29 DAYS OR LESS for cyclists
50 DAYS OR LESS for runners
STARTING OCTOBER 12, 2020
"Everesting" has become a thing – now part of the global bicycling vernacular. It's a fairly simple concept, yet brutally challenging: Pick any hill, anywhere in the world, and climb it repeatedly, until you reach the height of Mt. Everest at 29,029′.
The pros have been going at it all year, with new records set and then broken within a few days. The current record belongs to Ronan McLaughlin in 7 hours 4 minutes 41 seconds. That's just INSANE.
How about a challenge for us mere mortals?
Cyclists get 29 days to climb 29,029′. Runners get 50 days. You can do a non-stop sufferfest; a quad-busting weekend; or take your time and smell the wildflowers.
HOW DOES IT WORK?
1. "Register" for the Challenge online or with mail-in waiver.
2. Request to join the Obsessive Cycling Disorder Strava Club. For the duration of the Challenge, you must use your REAL name and your privacy settings must be set to EVERYONE, including your profile, so we can see your daily/weekly climbing. For cyclists, only cycling counts- indoors or outdoors. For runners, only running/walking/hiking counts.
3. If you're not yet on Strava, please join! It's FREE! And please post photos so we may share on Facebook. If you're NOT on Strava and don't wish to be, you MUST email your weekly stats (Monday to Sunday) and proof to embassy@planetultra.com each Sunday by midnight during the challenge. We will NOT remind you to do this. If you miss the Sunday deadline your mileage will not count for that week.
4. Cyclists have between October 12 and November 9th to ride, ride, RIDE- and climb, climb, CLIMB! For runners, between October 12 and November 30th.
5. Acceptable bikes: Any and all exclusively human powered two-wheeled bicycles. Sorry, no e-bikes/pedal assist for this one.
6. Acceptable indoor-apps: We're okay with any of them, so long as you're using a smart trainer and are being honest regarding your weight.
7. Each Monday during the Challenge, we'll collect climbing standings and Everesting finishes. Throughout the weeks, finishers will be acknowledged on Facebook and then the final standings will be posted on this page. Please have all rides uploaded to Strava each Sunday by 9pm MDT.
8. If you previously "Everested" (since April 1) and just wish to purchase the jersey, event registration will have an option for just the jersey. You must send us a strava link or other proof that you did it – and it had to be in ONE RIDE.
WHAT'S INCLUDED WITH ENTRY:
1. Planet Ultra will monitor weekly progress on Strava, post results on our website and photos on Facebook. You'll get lots of kudos and acknowledgement for your climbing efforts!
2. Everyone who "Everests" earns the Everesting Jersey or Everesting Singlet, by Blackbottoms Cyclewear. Our design includes Tibetan prayer flags: Blue for sky, white for air, red for fire, green for water and yellow for earth. Traditionally, prayer flags are used to promote peace, compassion, strength, and wisdom. The flags are not intended to carry prayers to gods. Tibetans believe the prayers and mantras are blown by the wind to spread good will and compassion into all pervading space.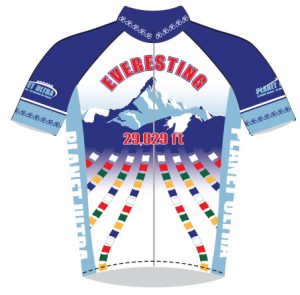 Jerseys will be ordered at the end of the Challenge and delivered as soon as we have them (usually 6-8 weeks).
Please choose your size wisely, as we will not carry inventory. Race cut are euro-style, tight fitting. Club cut is more relaxed.
Jerseys/Singlets will be special ordered for finishers only.
3. Everyone who "Everests" in a single activity will have the designation "In One Day" on the jersey center pocket.
4. Everyone who "Everests" in under 150 miles will get an Everesting window sticker and be entered into a drawing to win their choice of either a FREE 2021 Planet Ultra single-day event entry or 30% discount for solo Hoodoo 500 entry.
5. Everyone who completes the Everesting Challenge will be entered into a drawing to win a FREE Planet Ultra single-day event entry.
6. Discounted USA Cycling membership, with coupon code "club2020."
7. 20% discount on RoadID, with coupon code 1MKMW5EN3ZNG.
Entry Fee: Cycling – $119; Running – $109
Includes Everesting jersey or singlet for everyone who climbs at least 29,029′ in the time limit.
Jersey Only: $80 includes tax and shipping.
Use the Climb Everest button to register with RunSignUp and pay by credit card (includes a small service fee). To pay by Venmo or Zelle, download and email this form. The email addresses for Venmo and Zelle are at the bottom of the form.