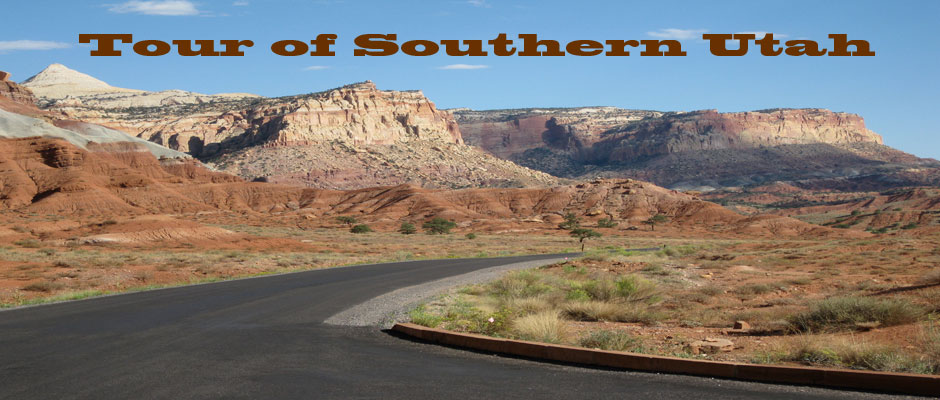 SEPTEMBER 13-19, 2020
10 riders minimum / 24 riders maximum.*
*To make this Tour happen, we need 10 riders pre-registered 8 weeks in advance. Please don't wait until the last minute to join us!
An incredible seven day adventure!
60-100 miles per day, from point to point in breathtaking Southern Utah.
Take in the amazing sites of Zion, Bryce and Capitol Reef National Parks,
Grand-Staircase Escalante and Cedar Breaks National Monuments, and more!
Each route is a challenging adventure with awe-inspiring scenery.
2020 Entry Fees: Private Room – $2299; Shared Room – $1799. Includes seven unforgettable days of cycling, eight nights hotel accommodations (breakfast sometimes included), roomy gear bag to pack all your belongings, gear transport, support vehicles providing drinks, snacks and lunch along the route. Registration closes August 31st.
Dinner is not included. Breakfast is included at 4 of 7 hotels. We know some tours include meals; but we don't, and here's why: Our experience is that after a hard-day's-ride, most folks have a hankering for something specific to eat and would rather not be stuck with the single option given by the Tour. Some folks eat dinner early, some folks eat late. Some folks skip breakfast. Our method lets you decide. Most similar tours charge over $1,000 more than we do, with the only difference being the inclusion of meals. We promise you, you will not spend even half that much buying your own breakfast and dinner. National Park entry also not included. Day passes are available at the Parks for $20 or purchase an annual pass for $80. (NPS annual passes allow 4 adults to enter together.)
SAG driver discounts offered: If you're planning to ride this event but you'd like to drive SAG one or more of the days, you may email us in advance of signing up and we'll give you a coupon code to use during registration for an instant 10% discount per day of SAG driving. If you plan to bring along a non-riding spouse who would like to drive SAG each day, please send us an email requesting details.
Use the SignUp button to register online using a credit card. If you'd prefer to pay by check, you may mail in this form. If using the paper form, please write in your roommate preference if you have one.
Click here for the cancellation policy. Planet Ultra reserves the right to cancel the Tour is the rider minimum of 10 is not met by June 30th.
IS THIS TOUR FOR YOU?
This Tour is not a training camp — it's a vacation for cycling enthusiasts. Many of the routes, while not long in mileage, are fairly strenuous, with long climbs routinely crossing passes over 8,000ft. To enjoy this Tour, your training in the previous six months should include at least a couple of centuries (or doubles), and several 200+ mile training weeks. You should be able to complete a moderately difficult century in under 8 hours, including stops.
Some riders will find that a low gear of 39 x 27 is sufficient on most routes; but most riders will prefer a compact or triple crank with a 29 or bigger. What you'd use for a single day event is most likely not enough for a week long tour with so much climbing. You will fatigue from the accumulated miles and mountainous terrain. Also, please bring a good, sturdy set of wheels. Light-weight, fancy wheels are really not appropriate for this type of Tour. If you break one, you'll end up in the SAG vehicle all week, as we can't fix 'em, and bike shops are non-existent except for the first and last days. Please note, we're unable to accommodate riders with recumbents or trikes, as we simply can't transport them.
Starting Hotel
Best Western Abbey Inn, located at 1129 S Bluff Street in St. George. The Saturday nights both before and after the Tour are included, so no need to make a reservation. If you're flying to St. George, we have a brand new airport, or Las Vegas International Airport is just 90 minutes south. Shuttle service is available from Las Vegas to St. George with the St. George Shuttle for about $36 one-way or $64 round trip.
Our Vision For The Tour
Our hopes for this Tour is to maintain a club-like, social atmosphere, where we make new friends, ride together, enjoy the scenery and create great memories from an awesome vacation.
Rider Check-In
We'll meet in St. George on Saturday evening at the Abbey Inn. Check in will be from 7:30-8pm. We'll have a short meeting at 8pm just to go over details and answer any questions. Breakfast starts at 7am. Plan to be ready to ride by 8:15am. Generally speaking, rides start between 8am and 9am, depending on the length and difficulty of the route. On Day Three to Escalante, we'll start at noon to allow riders to enjoy the bonus miles to Rainbow Point in Bryce Canyon.
Itinerary:

Click here for an overview map of the full course.
Day One – St. George to Mt. Carmel Junction, via Zion National Park:
About 80 miles with over 5300′ of elevation gain. In Zion, we'll take a break and dip our toes into the Virgin River. Click here for map and elevation profile to Zion and here for map from Zion to Mt. Carmel.
Day Two – Mt. Carmel Junction to Bryce National Park:
About 60 miles with over 3700′ of gain. Click here for map and elevation profile. In the afternoon you can ride to Rainbow Point in Bryce (at 9100′) or hop on a shuttle bus and go into the park for a hike. The ride to Rainbow Point is 38 miles with about 2,900′ of climbing. Click here for map and elevation profile of bonus ride. There are a ton of hiking options – long or short, easy or hard. All are gorgeous.
Day Three – Bryce National Park to Escalante:
Before we leave for Escalante, either hike or ride into the park, whichever you didn't do yesterday! Those wanting to sleep in can have a leisurely breakfast before the group gets back together and heads out to Escalante. The ride to Escalante is short – so we'll leave Bryce just before noon. It's about 48 miles with 1,800′ of gain. Click here for map and elevation profile.
Day Four – Escalante to Torrey:
About 66 miles with over 6,100′ of gain. Click here for map and elevation profile. Everyone is encouraged to ride the bonus miles on the incredible Capital Reef Scenic Drive. The extra bit is about 36 miles with 2,500′ of gain. Click here for map and elevation profile. BEST day of the Tour! And also the hardest!
Day Five – Torrey to Panguitch:
About 106 miles with about 3,400′ of gain. As far as centuries go, it's fairly flat – with most of the climbing in the first 27 miles. But it can be super windy, so riding with at least one other person is recommended. Click here for map and elevation profile.
Day Six – Panguitch to Cedar City, via Brian Head and Cedar Breaks National Monument:
About 57 miles with about 5,300′ of gain. We'll reach our highest point of the Tour on this ride, at 10,500′. Click here for map and elevation profile. Be prepared to be a bit short of breath! And not just from the awesome scenery!
Day Seven – Cedar City to St. George:
About 83 miles with just over 2,500′ of gain. Alas, the last day… Take your time and savor the final hours of riding. Over too quickly!!! Click here for map and elevation profile.
Click here to see a ton of photos from the 2015 Tour.
Rider Feedback about the Tour of Southern Utah:
"I enjoyed every mile on the road and every new scene that developed around each corner and appeared at the top of each climb. You guys did a fantastic job in developing a wonderful route and supporting such a mixed bag of riders… You provided an opportunity to all of us to do what we love to do (cycle) in one of the most unique places on the planet. Thanks again for a most amazing week!" – Bob Paxson, Sacramento, California
"Just a note to say thank you for taking me along on a wonderful adventure. I enjoyed every minute of it. Hope to try it again in the future."
-Terri Boykins, Los Angeles, California
"Thank you so much for putting on a great tour! Amazing riding & and company to match! I'm still on a high from the tour."
-Janak Parekh, San Francisco, California
"Thanks for a wonderful vacation! We enjoyed every bloody inch of the Southern Utah chip seal. If I had to sum up your Tour in one word: AWESOME!!!
We'd been to all the those scenic Utah spots several times, but the bike gave us a whole new perspective on and appreciation for that stunning landscape." -Guntram Jordan, Mammoth Lakes, California
"The Utah trip was BITCHIN'. We enjoyed every minute. The route was unbelievable–how do you find these roads? –and the scenery simply defies description. We had so many special experiences–like cresting the 9000 foot summit on the road to Torrey and meeting another tandem team struggling up the other side–on their 75th day of a cross country tour. Or getting to Cedar Breaks after being rained on, snowed on, hailed on and blown around and going to the vista point to look over the side –WOW.
Your description of the ride accurately warned us of the challenge the course presented. I can assure you that for a tandem team of our (my) size and experience it was hard work every day. What we appreciated most was that neither the course nor the group offered to cut us any slack. It was always just assumed that we were equal to it and we took the opportunity to rise to the occasion. We are proud of our accomplishment and are grateful to have been a part of the ride.
Here is what we liked: everything.
Here is what we want you to change: nothing." -Peter Giannini, Anchorage, Alaska
"Thank you for staging The Tour of Southern Utah. You really know how to run an excellent cycling event! Wayne and I enjoyed every day of cycling- not only because the route had little traffic, but also because we saw a landscape we had not previously experienced. The cheery support you, Brian, Emmy and Mike provided was over the top and most appreciated. The accommodations you chose were great, as were ALL the food choices both on the road and at dinner. I have nothing but good things to tell cyclists at home about Planet Ultra events, and hope others here plan to attend in the future. I definitely will." -Melanie Ashby, Miami, Florida