John M. Clare Memorial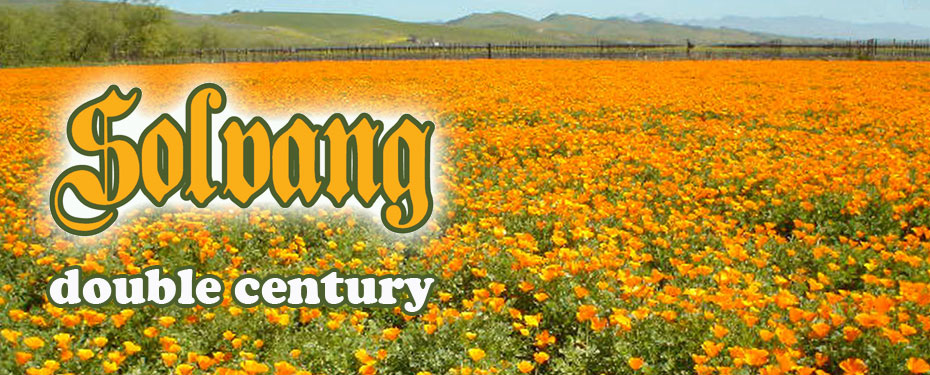 MARCH 20, 2021
VIRTUAL SOLVANG DC: OCTOBER 3-31
Information and Registration HERE.
Spectacular 200-mile and 200-kilometer routes
in Southern California's most popular and scenic cycling region!
Staggered Starts: 4:30am to 7am* ▪ 17 hour time limit ▪ Chip-timed
Come for the double and stay for the week! Click here to learn about our Solvang Spring Tour!
General Information and Ride Rules – Please Read!
Click here for 2019 chip-timed results. Click here for results including "tourist" riders.
Click here for results from prior years.
2020 Entry Fees*:
Double Century:
Until October 3: $150.
Late entry: October 4-14 at noon: Make an online reservation and pay $180 at the door.
Very last minute entry: October 14 at noon- October 16 at 5pm: $200.
Double Metric: Until October 3: $125. Thereafter, until midnight Wednesday before the event, you may make an online reservation using the SignUp button below and pay $140 at the door.
Please read our registration and cancellation policies. We highly recommend purchasing the cancellation insurance with registration.
* If you're planning to ride this event and know you can bring along someone to help out, you may email us in advance of signing up and we'll give you a coupon code to use during registration for an instant 20% off. By helping at the event, the volunteer you bring earns an entry to a future single day event for only $40. If the volunteer is a non-rider then YOU can have the entry. So you get two nice deals: An instant discount for promising to bring a volunteer, and a $40 entry fee for your next event.

Entry includes Solvang souvenir (a new surprise) for everyone who signs up at least four weeks before the ride; fully stocked aid stations along the route; roving SAG support.
Use the SignUp bottom to register online and pay by credit card (which includes a small service fee). Click here to view the registered rider list. To pay by check, download and mail in this form.
Your mail-in form and check must be received no later than October 3rd.
For the remainder of 2020, we are unable to accept volunteer coupons. All registered riders must pay the usual entry fee.
Please read our new cancellation policy before registering.
Start/Finish – Host Hotel:
Our host hotel for October 2020 is the Sideways Inn located at 114 E Hwy 246 in Buellton. Our group rate is $185 per night.
If you prefer to stay at the adjoining Flying Flags Resort and Campground, the following special rates apply:
Premium Pull-Through RV spots – $71 per night
National Park Cottage w/ loft – $269
Vintage Trailer – $179
Safari Tent – $179
Prices exclusives of taxes and resort fees. Please call (805) 691-8086 and reference group name, "Planet Ultra Cycling." Rates expire 8/16/2020.
We have two overflow hotels:
Hampton Inn located right down the street at 600 McMurray Road in Buellton, (805) 686-1555; $229 per night with 2 night minimum stay. Includes breakfast.
Pea Soup Anderson's Inn in Buellton, (805) 688-3216; $119.10 per night.
The group rates expire September 3rd so please make your reservations early.
We realize hotels in this area are very expensive; so try AirBnB as well.
Rider Check-In:
Rider check in will be TBD conference room at the Marriott on Friday night from 7-9pm and Saturday morning from 4:15-6:30am. You must check in during these hours, or you'll not be able to pick up your number plate/timing chip. If you plan to ride as Tourist or opt for the earliest starts, please check in Friday night.
Solvang Open Start Window (Subject to Change):
4:30-5am – ONLY riders needing 16+ hours to complete the course.
5-5:30am* – Riders needing 15 to 16 hours to complete the course.
6-6:30am* – Riders needing 13 to 15 hours to complete the course.
6:30-6:45am: Riders needing 11 to 14 hours to complete the double century. Please sleep in a bit more if you can complete the course in under 14 hours!
7am: All double metric riders and all double century riders able to complete the course in under 11 hours.
NEW! Riders needing more than 16.5 hours may opt for the Tourist division during registration and start as early as 3:30am. Please familiarize yourself with the Tourist rules.
*PLEASE NOTE: Checkpoint opening and closing times are based on the first-light start time of 6:30am. If you start super early, you may miss checkpoints one and two; so be prepared to self-support. This probably means carrying a camelbak. Of course, you'll also have to carry your lights and wear reflective ankle bands on both legs.
Time Limits:
The course has rolling closures from aid station to aid station.
Aid station closing times are listed on the route sheet. Once an aid station closes, so does support end along the course prior to that aid station.
Finish line closes at 9:30pm.
Total time allowed to complete the course with an official time: 17 hours based on the 4:30am start.
Riders who start before 4:30am and/or finish after 9:30pm (but before midnight), will get Grand Slam and California Triple Crown finisher credit, so long as the total elapsed time does not exceed 20 hours.
Twilight:
Twilight begins at 6:40; Twilight ends at 19:37. Sunrise is at 7:05; Sunset is at 19:12.
Lights and Gear Drop:
If you leave your lights at the start, your bag will be waiting for you at Guadalupe. If there's any chance that you'll be out past sunset, you MUST have both a headlight and a taillight attached to your bicycle, and you MUST wear a reflective ankle band on both legs. If you start in the dark, plan on carrying your lights all day. We do encourage you to carry your lights yourself. That way if you need them, you're guaranteed to have them.
Bag Drop:
Because we know some folks have special dietary needs (or are very particular about what they want), you may bring THREE lunch-sized brown paper bag (like the ones you took to school in 2nd grade; and absolutely no larger) filled with your special foods. Drop the bags off at rider check-in, clearly labeled, and we will deliver them to Checkpoint 2 in SLO, and/or the lunch stop, and/or Checkpoint 4 in Guadalupe. These bags will be discarded when the checkpoints close. So please make sure you pick up your bags, or don't care that you won't get them back.
Double Century Route Description:
The ride starts and finishes just a few miles down the road from its namesake town, Solvang, a quaint, Danish village with great restaurants, window shopping, real shopping, horse-drawn carriages, parks, people in costume, wine-tasting, vineyards, and lots of fun things for the whole family to see and do. Bring your family and make a weekend of it. We promise they'll all have a great time while you ride your bike!
Starting with a wave start, you'll do a short warm-up in the eastern Santa Ynez Valley, then heads up world famous Foxen Canyon. You'll then essentially bypass Santa Maria by jogging around that town on dead quiet Bull Canyon to Hwy 166. Next you'll more or less parallel the 101 as you head north. After some really neat back roads, the route skirts the edge of San Luis Obispo, then goes down to Morro Bay and through Morro Bay State Park. After lunch in San Luis Obispo, you'll head south through Pismo Beach to Guadalupe. From there, you'll stay southbound on this desolate and beautiful stretch of Hwy 1, bypassing the whole Lompoc area, and then continuing onto Hwy 135 to the neat little western antique haven of Los Alamos. From Los Alamos, riders head back to Buellton via the beautiful Alisos Canyon and Ballard Canyon. Once you reach the top of Ballard, it's mostly downhill all the way back to Buellton!
The route is 192 miles. And truly, these are the best miles available in an already spectacular riding region. This route is among the fastest, most scenic, and most popular in the entire California Triple Crown series! Total elevation gain: about 8,300′.
Double Metric (200K) Route Description:
Mass start at 7am, you're ride starts and ends on the same route as the double century. You'll divert from the longer route in the little town of Nipomo and meet back up in Guadalupe.
The route is 120.6 miles with 5000′ of climbing. A great intro to ultra distance cycling to get you psyched up for the California Triple Crown Double Centuries!
Routing and Navigation:
Planet Ultra route sheets include lots of information to help riders navigate the course. For example, we tell you if a turn is at a stop sign (SS), traffic light (TL) or T-intersection (T-int). We know that riders prefer course markings; however, many of the towns/cities/counties specifically forbid it and in some areas traffic makes it unsafe. For these reasons we will no longer be course marking on any double century routes.
This is the type of route where a GPS with turn-by-turn capabilities will come in handy. Please understand and take responsibility for navigation.
Route Sheets and GPS Files: Route sheets are available in excel format to registered riders if requested via email between two weeks and five days before the event. We cannot guarantee that advance route sheets will be 100% accurate. Though not anticipated, last-minute routing changes may be required.
You may also download a map and GPS file from RideWithGPS.com. Please note that advance route sheets and gps files are provided as a courtesy and you use them at your own risk. Planet Ultra does not guarantee accuracy. Please further note the following very important caveats:
The ROUTE SHEET is gospel. Whenever the route sheet and the GPS unit disagree, the route sheet is correct.
A GPS can (and will) route a rider over a cliff. There's really no substitute for the human brain, so please use yours.
Never depend solely on a GPS. Bring your route sheet, and know how to follow it.
GPS batteries on many "bicycle" GPS units may not last for a double century. Make sure you've arranged for additional power.
After CP5, the route goes under Hwy 101 and onto a small vineyard road. That road is NOT on the Garmin maps. Riders using GPS should take note here. Your GPS will likely be squawking at you to take Hwy 101. Follow the route and reread #2 above.
Click here for the Double Century RideWithGPS.com map. Click here for the Double Metric. You may download a GPS file from these pages.
Support Provided:
There are five checkpoints along the route. At these checkpoints, riders can expect to find bananas, PB&J sandwiches, granola/fruit/energy bars, and many other wholesome edibles. Subway sandwiches (or similar) will be served at the Laguna Lake Golf Club checkpoint in San Luis Obispo.
Personal SAG Vehicles:
Not allowed! If you bring one, you'll be disqualified from the event without a warning. The definition of a personal SAG is any vehicle (motor or otherwise), anywhere on the route, operated by someone other than Planet Ultra staff, that is providing any type of aid, assistance, or motivation, or taking photographs, or simply out cheering. Please understand that our permits don't allow dozens of extra vehicles on the roads or at the checkpoints. If you're bringing someone with you who wants to be out on the course, please have them contact us and join our volunteer staff.
Volunteers / Sunday Staff Ride:
We always need volunteers! Click here for info about available positions.
Volunteers at Solvang may also choose to ride the route, unsupported, on Friday or Sunday to receive Triple Crown and Grand Slam credit. In the past we offered a supported staff ride, but we've had no interest in the past few years – and now only offer the unsupported option.