VIRTUAL HEARTBREAK HUNDRED
May 16-31, 2020
INDOORS OR OUTDOORS – YOU CHOOSE!
The COVID-19 crisis has wreaked havoc on the cycling season and on your personal cycling goals, including the Planet Ultra King of the Mountains Century Challenge.
In April we rescheduled Mulholland Challenge to September 26th and Mt. Laguna Classic to October 3rd. Those dates are of course contingent on California lifting both its stay at home and mass gathering mandates.
We've been forced to cancel Heartbreak Hundred, and there's simply no feasible date to reschedule in the Fall.
In order to keep your KOM dreams alive, in a modified form, we're now offering Virtual Heartbreak. Between May 16th and May 31st ride the actual Heartbreak route, or its equivalent for KOM Stage #1 finisher status.
If riding 100 miles unsupported isn't your cup of tea, but you'd like to lend us a hand, you can also simply SEND US SOME LOVE.
WHAT'S INCLUDED WITH ENTRY?
1. Participation in both the Virtual Heartbreak Hundred and our May Mileage Challenge. Your entry fee helps support Planet Ultra through the COVID-19 Crisis, and also keeps your King of the Mountains Century Challenge dreams alive! You may participate in some or all of the mileage periods: May 4-10, May 11-17, May 18-24 and May 25-31.
2. Heartbreak refrigerator magnet and Obsessive Cycling Disorder window sticker. Magnets will be ordered by June 1st and mailed via US Mail as soon as we receive them.
3. Membership in Planet Ultra cycling club with special discounts on gear and events for the rest of 2020.
4. Discounted USA Cycling membership, with coupon code "club2020."
5. Complete Virtual Heartbreak for KOM Stage #1 finisher credit and get an additional chance to win a FREE Planet Ultra 2021 single day event entry.
6. Participate in the May Mileage Challenge to also qualify for the prize drawings for that event.
7. Finish Virtual Heartbreak and then ride and finish Mulholland Challenge and Mt Laguna Classic and we'll send you a FREE 2020 King of the Mountains Century Challenge Official Finisher shirt.
HOW DOES IT WORK?
1. "Register" for Virtual Heartbreak challenge online or with mail-in waiver.
2. Request to join the Obsessive Cycling Disorder Mileage Challenge Strava Club. For the duration of the Challenge, your privacy settings must be set to EVERYONE, including your profile, so we can view individual activities. Only cycling counts- indoors or outdoors.
3. Between May 16th and May 31st only, ride your Virtual Heartbreak. See below for rules which must be followed to receive King of the Mountains Century Challenge finisher credit.
4. Planet Ultra will post results on our Results page; and KOM standings on Mulholland and Mt Laguna pages as well.
All-Inclusive Entry Fee: $50
Use the Join The Challenge button to register with RunSignUp and pay by credit card (includes a small service fee). To pay by Venmo or Zelle, download and email this form. The email addresses for Venmo and Zelle are at the bottom of the form.
Obsessive Cycling Disorder shirts and jerseys may be ordered on RunSignUp or our online store.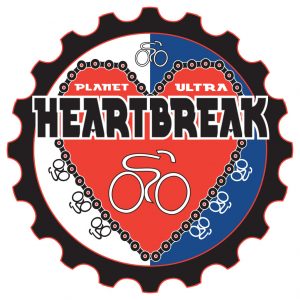 VIRTUAL HEARTBREAK RULES
1. Between May 15th and May 31st, ride the Heartbreak Century route, or an equivalent route of at least 100 miles with a minimum 8,000′ elevation gain – while maintaining social distancing minimum 6′ between cyclists if riding in a group. You may also ride your equivalent route on any indoor training app.
2. Ride self-supported or with Private SAG; but no more than 10 riders per group. Again, maintain social distancing minimum 6′.
3. You must complete the ride within 12 hours (total time, not ride time), on a single calendar day.
4. Upload the ride to Strava, name the ride "Virtual Heartbreak," and include at least one photo of yourself. Bonus drawing for wearing any Planet Ultra event jersey.
5. Details and links to RideWithGPS for the actual route are on the original event page. If you decide to stay in Lebec the night before or the night after, be sure and stay at the Holiday Inn Express and let them know you're a Planet Ultra person. They'll definitely appreciate the business.